About our Company
Eagle Janitorial is a family-owned business founded in 1995. We were established with a simple belief that quality workmanship and open communication are the keys to true customer satisfaction. Our management team has many years of personal experience in working with small businesses up to Fortune 500 companies.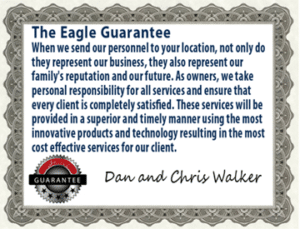 WHY WE ARE THE PROFESSIONAL CLEANING SERVICE FOR YOUR BUSINESS
In 2000 we progressed from a janitorial cleaning company to a full service building and maintenance company providing supplies, personnel and a full line of building services to create a convenient, efficient, single source solution for our client's needs. We are uniquely positioned to provide expertise in providing our clients with these critical services so they can effectively manage their building maintenance operations.
We maintain our leadership in our field by providing customers with superior services that are achieved through total employee involvement and teamwork. Exceeding our customers' expectations and supplying the highest quality products and services are paramount at Eagle. This belief is the foundation that helps shape the company's vision for progress and gives our customers the tools to achieve their goals.
EAGLE'S MISSION STATEMENT
At Eagle Janitorial we strive to provide a superior level of service and consistency that is reliable, flexible and understanding of the unique needs of our customers. Our experienced and motivated teams excel in prompt and accurate communication to ensure that we always deliver more than expected.
We are a full service company that provides our customers with the diverse services and expertise they need to make educated decisions about choices that impact their businesses. We understand that no two clients are exactly alike. Before giving you an estimate we will provide a no-obligation visit to your site to discuss your company's needs. Then we will come up with a plan that meets your requirements and your budget.
Clients Speaks
Our Testimonials
"The staff works really hard and are very polite"
The builders left a mess and Eagle Janitorial was there when we needed there to make sure everything was spotless. Their team came in on short notice and handled out post-construction cleaning. We've continued to use Eagle Janitorial for daily cleaning services and have been extremely happy with their service, the thoroughness of their work, and attention to detail.

"Excellent customer service. They do a great job."
You always have jitters when hiring a new cleaning company, but mine were laid to rest after Eagle's first week on the job. There's a reason that word-of-mouth drives their business: they do a great job. They're very responsive, willing to provide extra cleaning services when needed, and – unlike other vendors I've worked with – respond very well in an emergency. I would recommend Eagle Janitorial Services NJ to anyone looking for cleaning services in a second!

"Great Job carried out by Eagle Janitorial!"
The value of their work has been proven, not only in the quality of their daily cleaning services but, more importantly, in their responsiveness to issues and special requests. They commit to satisfying customers in a timely fashion and work hard at maintaining the level of communication and feedback that's so important in this kind of service industry.

"One stop shop for Janitorial Services!"
When I first started 10 years ago, Eagle was already providing service for our medical facilities. They continue to do well with our organization, so we continue to use their services for existing offices and work with them on most of our new locations as well. Eagle is our one stop for Janitorial Services such as supplies, cleaning, damage clean-ups, and even minor repair services. We communicate directly with the owners, and they're both great to do business with, reliable and conscientious. They listen to our needs and provide timely and appropriate responses every time.