Hospital Cleaning and Housekeeping Requires Experience
We are the Hospital Cleaning Experts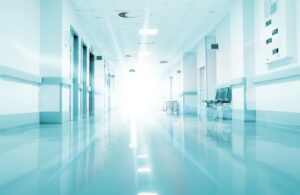 Commercial cleaning of hospitals requires knowledge of detailed cleaning jobs. Unlike Janitorial cleaning for other types of offices and buildings, hospital cleaning and hospital housekeeping require specialized training and equipment in order to be done right.
The professionals at Eagle Janitorial know this firsthand, because right around 40% of our overall business comes from hospital cleaning and medical office cleaning. It's something we've been doing for more than 20 years, and our employees are well-trained in the proper commercial cleaning protocols and healthcare facility management procedures. Eagle Janitorial has the experience to provide a detailed checklist.
We wear protective equipment (gowns, masks, gloves) when cleaning potentially contaminated areas.
We use cleaners and disinfectants that are hospital-grade and approved.
We focus on "high-touch" areas – patient beds, keyboards, phones, tables, TV remotes, light switches, and door handles – and utilize top-down cleaning.
Why you should get hospital cleaning from Eagle Janitorial
Our New Jersey commercial janitorial service is up to the task for cleaning any hospital. High-volume hospital facilities should undergo commercial cleaning every day of the week. That's where we come in.
Infection control in healthcare facilities and hospitals can prevent the spread of germs that affect two million people every single year. Studies have shown that about a third of those cases could be prevented with proper infection control procedures that include cleaning services from an experienced commercial cleaning company.
By using Eagle daily for effective cleaning you can help to protect your patients, your employees, and yourself by making sure that no chemicals or infectious materials hang around overnight and have a chance to become a problem. We understand that you may not want janitorial cleaning staff working while your patients are there, which is why we make ourselves available 24 hours a day, 7 days a week. Simply schedule our workers to show up after your medical offices are closed. We can even come up with a flex schedule with you for when unexpected changes come up.
Proper commercial janitorial cleaning is something that will help you in the long run, because healthier patients are more likely to come back and sing the praises of your facility to their friends and family. Call Eagle Janitorial today and we'll set up a free consultation where we can talk about your customized hospital cleaning solution.
   Dedicated, Fully Insured & Bonded Staff
Our cleaning staff provides secure, quality cleaning services for your hospital
  Approved Hospital Grade Cleaning Products
Our cleaning products are commercial grade and highly effective
 We Specialize in Medical Office Cleaning
We've been providing professional cleaning services for a variety of hospitals for more than two decades.

Service Key Features
We carry out our responsibilities in a disciplined way, and offer a series of checks and balances so that you can be certain the work we do is always first-rate.
  Specialized services, customized to your needs
  100% effective cleaning solutions
  Trustworthy, reliable and timely cleaning services
  We supply all cleaning equipment and materials