Quality Floor Care and Carpet Cleaning
For High-Trafficked Areas
Scuff marks… Spills… Tracks that lead from room to room.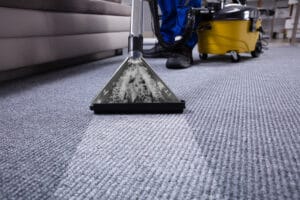 People are walking around your business establishment all day everyday – or at least five times a week. Without regular floor care as part of your office cleaning, very quickly you're going to notice problems. Even if you have the cleanest visitors in the world, a lack of regular carpet cleaning and floor care will lead to a build-up of dust and dirt.
A poor level of floor care will leave a negative impression that affects how visitors view your business. After all, what does it say about a company that doesn't care enough to make the very best impression with their clients? If you don't care for your own building, how can they believe that you'll take good care of them?
Professional Hard Surface Floor Care Designed for Your Business
Eagle has been in the floor care and carpet cleaning business for 15 years. Our professional cleaners have all been extensively trained on the highest quality equipment to properly clean whatever kind of flooring you have.
We know every business is unique, so our professional cleaners don't take a "one size fits all" mentality with carpet cleaning. When you contact Eagle to get a quote, one of our owners will personally come to your company to meet with you about our office cleaning. We bend to your needs, creating a customized floor and carpet cleaning services plan that fits your budget and schedule.
It doesn't matter if you want our professional cleaners to show up every single day, on weekends, bi-weekly, or once a month, our floor care services are flexible. You can even schedule overnight carpet cleaning services to avoid interrupting your workflow.
Your Floor Care Needs – All In One Place
Eagle has been in the carpet cleaning, floor care, and hard surface cleaning business for so long, we've made it a point to become experts in a wide variety of techniques and types of flooring so we can provide all of your floor care needs. Just a few of the services we are able to provide include:
Vacuuming & Mopping
Stripping, Sealing, and Waxing
Scrubbing and Buffing
Deep Scrubbing and Refinishing
High Speed Burnishing
Our professional cleaners know how to work on:
Tile
Hardwood Flooring
Laminate Flooring
Vinyl
All Kinds of Carpeting
And More!
And if you like your office cleaning to be environmentally-friendly, we can help there, too. We always strive to use carpet cleaner and other products that are safe for the environment, but if you select our Green Cleaning services, we will do everything in our power to work with you to find green cleaning solutions.
If you truly want to impress your customers and extend the life of your flooring with proper floor care, contact the professional cleaners at Eagle to see what we can do for you.
Contact Us Today to Get a Free Customized Floor Care or Carpet Cleaning Quote: 1-888-730-1123
100% Satisfaction Guaranteed!