Janitorial Cleaning Services You Can Trust
Does your janitorial services provider live up to expectations?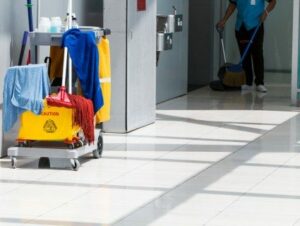 Since 1995, Eagle Janitorial has provided janitorial services in the New Jersey, Pennsylvania, and New York area.
We're a family business – privately owned and operated, not part of a franchise – and we pride ourselves on our customer service, providing prompt and accurate communication and exceeding our customers' expectations.
Eagle Janitorial provides the highest quality results from our janitorial services so that our clients are happy and satisfied with the work that they pay for.
Professionalism – Our crew members are extensively trained and use the latest commercial janitorial cleaning technologies to ensure the hygiene and safety of your facility, staff, and clients.
Safety and Security – Every crew member goes through a rigorous background check and is outfitted in an Eagle Building Maintenance and Janitorial uniform so you know they're sent by us.
Availability – Would you prefer our crews to come in the morning? Overnight? During lunch? You tell us what's most convenient for your business, and we'll work around it.
Confidence – We offer 100% satisfaction guarantee – or your money back.