Full Service Office Cleaning for New Jersey and Pennsylvania
With our office cleaning and commercial cleaning janitorial services, we can guarantee specific routine cleaning, improve the look of any facility and provide our clients with the confidence they deserve. We understand the trust people place in us to make their offices give first impression of an orderly well run business.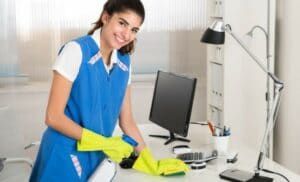 If you own or rent a commercial space, you need an office that looks orderly, well-maintained, professional – in a word, clean.
That's why Eagle Janitorial takes so much pride in the fact that office cleaning services make up 60% of our business. When corporate offices in the New Jersey or Pennsylvania areas choose our commercial janitorial services, they are putting a lot of trust in Eagle, and we reward that by maintaining a consistent level of care that keeps their space looking great.
How? By working with you to create a custom commercial office cleaning services routine that meets your business's specific needs. It doesn't matter if you want professional cleaners day, night, daily, weekly, bi-weekly, or monthly, our commercial cleaning crews will be able to help. They're thoroughly trained on the specific tasks you want completed and given a detailed checklist you can access as well through our Janitorial Services page.
Office Cleaning Services to Meet All Your Needs
As a business professional, you likely don't have time to consider all the details of your office cleaning services. For instance, you might not think about having your door handles sanitized, but with potentially hundreds of people touching them each day, they can be havens for germs and bacteria. Colds and the flu can spread quickly, leaving your workforce weakened.
Based on more than 15 years of experience in the commercial janitorial industry, we can guide you in creating the right customized office cleaning schedule, including:
Emptying trash bins and replace bags every day
  Thoroughly vacuuming all carpets
  Sweeping and mopping all tile and wood flooring
  Sanitizing door handles
  Dusting room fixtures on a weekly basis
  Making sure all lights are turned off and all doors are locked at the end of each session
We also understand that different areas require different kinds of office cleaning products or services, and our professional cleaners are trained accordingly. Each area has a specific office cleaning checklist that our workers need to complete as part of their regular commercial janitorial responsibilities.
Break Room Cleaning Services
It should come as no surprise that the break room is typically one of the areas most in need of office cleaning services. After all, it's the place where many of your employees cook, eat, store – and sometimes even leave! – food. Messiness there can lead to employees transferring germs and having allergic reactions. That's why our break room cleaning services are all-inclusive:
Cleaning the inside of refrigerators, coffeemakers, and microwaves
  Sanitizing the outside handles of these appliances
  Wiping down counter tops, cabinets, tables, and chairs
  Cleaning the sink, the faucet, and its handles
  Checking and replacing the roll of paper towels
Our Commercial Cleaning Company provides Office Cleaning Services for routine cleaning to improve the look of any Office or facility.
Common Area Office Cleaning Services
Some companies have common or social areas outside of break rooms, as well as meeting rooms and waiting rooms for clients. We know how important your clients' first impressions are, so our professional cleaners go above and beyond our regular trash removal and floor cleaning services to ensure a clean, professional atmosphere.
Cleaning all glass doors/windows/furniture
  Wiping down any exposed woodwork
  Turning off all lights in the room and locking the door
Our commercial cleaning company provides office cleaning services for routine cleaning to improve the look of any office or facility.
Office Cleaning Services for Restrooms
Perhaps one of the most important parts of office cleaning services is restroom cleaning. It doesn't matter if the rest of your office space is immaculate if your bathrooms are dirty. Our commercial janitorial crews always carry comprehensive restroom checklists because we want to ensure that our clients never have any complaints about their cleanliness. Every day, our workers:
Empty trash and change bag
  Clean and sanitize toilet seats, handles, and bowls
  Scrub and sanitize urinals and their handles
  Sanitize restroom door handles and toilet paper holders
  Check soap dispensers, air freshener cartridges, paper towels, and toilet paper and replace or refill as necessary
Eagle's office cleaning services don't stop there. If your business needs professional cleaners for a specific reason, such as after a move or renovation, we have the resources to help. Even if it's been a while since your last office cleaning, our commercial janitorial crew can provide the thorough service you need to get your space up to par.
Let Our Office Cleaning Services Keep You Looking Good
At Eagle, we measure our success by that of our clients, and we truly believe that a cleaner, healthier work space helps a business's bottom line by attracting new customers and increasing productivity. As one of the leading office cleaning companies in the tri-state area, hiring Eagle will free you up to concentrate on your business without ever having to worry about how your office looks.
Call 888-730-1123 to Get a Free Quote

Service Features
We provide quality office cleaning solutions in New Jersey and Pennsylvania. Eagle Janitorial is an award-winning service provider for commercial cleaning and janitorial services.
  Specialized services, customized to your needs
100% environmentally friendly cleaning supplies
  Trustworthy, reliable and timely cleaning services
  We supply all cleaning equipment and solutions
We offer a variety of cleaning schedules